Turntablist PRYVET PEEPSHO + Keyboardist LORD VINCE = BEAUTIFUL KALIMARI, one of the best sounds to ever come out of the Inland Valley Desert. Lord and Peepsho have been playing music together far before they decided to form a group. They met through a mutual friend, DJ Antidote, in the early 2000's but it wasn't til many years later (2009) that Beautiful Kalimari harvested; A mix of downtempo, trip hop, turntablism, jazz thinking & heavy melodies, with Pryvet Peepsho on the turntables and Lord Vince on the keyboard. When asked who BK has gotten musical influence from, Peepsho & Lord made it clear that they have individual influences. I thought this was interesting, and important. In my own opinion it's always best to have a crew of individuals and not a crew of followers. Anyway, their influences spanned pretty eclectic, ranging from scratch experts D-Styles & Ricci Rucker, to Japanese pianists like Koji Kondo & Yoshihito Yano, to even bugged out DNB sh*t like Figrin D'an and the Modal Nodes. When you listen to BK's new self titled 45 "Beautiful Kalimari", you can't help but wonder where the inspiration or influence came from. The project was recently released on Eternal Mode Records, an in-house label created by Lord & Peepsho, to push their music, as well as other artists, independently. We were honored to celebrate the BK 45 release at both Beat Swap Meet's LA & Bay Area earlier this year.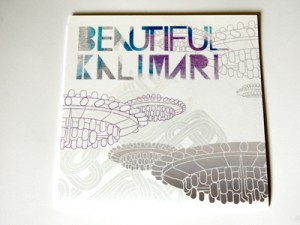 The 7″ features 2 songs, spacey cover art by Jextraterrestrial (creator of our BSM logo), and only a limited amount of 500 pieces floating in the air. It's a good record for the collection.
You can catch Beautiful Kalimari performing live at Beat Swap Meet Las Vegas #2, Saturday evening October 6th.
TO OUR READERS WORLD-WIDE:
1 Free Copy of this 7″ goes out to the first person to tell us the Artist & Record Label of the original "AHHH FRESH" sample?
RULES: Must answer on our website blog wall for this post to win.